It surfs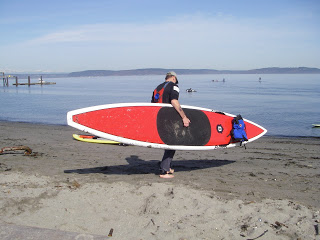 I liked the
Bark 14
on the flat water and it really rocked the downwind runs. Now I needed to know if it was worth surfing it. After all, it's 14 feet long. There are some big guns out there but 14 feet?
I had three long sessions on it last week, in waves that varied from about 2 feet to maybe 5, and it handled really well overall. Even with the extra length, it seemed no less maneuverable than the 12-footer I'm usually paddling and the long waterline meant that catching a wave or returning out through the surf zone was a cake walk. It's easy to get up to speed and the upswept nose made it easy to slide straight down a face and initiate a turn before bottoming out and losing speed.
It was fun. More than that, it did everything I asked of it. I believe I've found the board I want to use this summer on the Olympic coast.