"It could be ugly"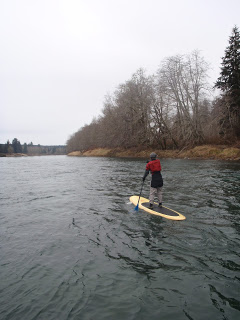 Leaving for La Push this morning. I'm thinking about taking a kayak and a SUP, to go along with my sprained wrist. (Channeling my inner Boy Scout… just want to be prepared for anything.)
Ken DeBondt, in an email he sent out a couple days ago, warned about the conditions and how they might not be too conducive to a great surfing experience. It's hard to say… last year there were no waves at all and the year before it was wild and huge. But, once you've made the decision to go, you go, and let the cards fall where they will.
Thankfully, there's always the river.