In like a platypus, out like a wildebeest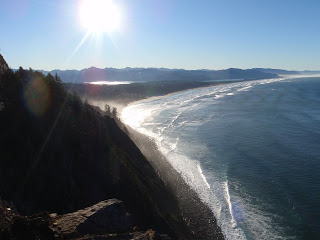 How is it possible that it is March already? How can the days be so long and the months so short?
And now it's March. Possibly my least favorite month of the year, even when you factor in St. Paddy's Day. (Apologies to anyone with a birthday this month.) It's cold, wet, windy and almost completely devoid of any redeeming aspects. I'm so over winter by this point, yet spring doesn't really seem possible yet either. In like a lion? Yes, and probably will seem like an ill-tempered lion all month and go out the same way. (If past years are any indication.)
If I seem pessimistic this morning it's probably from lack of sleep as much as anything. Long days getting the shop together (still plenty to do there), burning the midnight oil on other projects at the same time… I need a break.
We're heading down to Cannon Beach this weekend. Time to unwind a little, recharge for the next round. I won't have internet, the phone will be off most of the time and I just got a new book. I am looking forward to it.