In hot water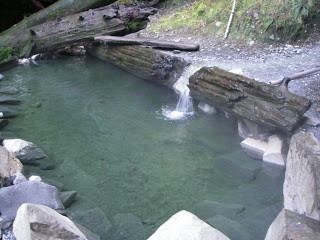 The Olympic Hot Springs are just that: hot springs. Holes in the ground filled with water. There's no lodge, no changing rooms, no gift shop and parking area, none of the amenities that you'll find over at Sol Duc, the "other hot springs." It's rustic, without any of the human conveniences and, with the snow falling all around on a winter afternoon, it feels about as primal as can be.
But it hasn't always been that way. There used to be a lodge here.
With a swimming pool, and eighteen separate buildings. The area was a tourist destination for the better part of the 20th century, and could be reached from Port Angeles by road after 1930, when a round-trip taxi ride from PA to the resort cost $3.75. It had an up-and-down existence from the start and was finally closed for good in 1966.
By the early 1970's, all of the structures were in disrepair – some had seen their roofs collapse under the weight of winter snows, some had been damaged by fire – and the Park Service brought the wrecking ball. In a matter of months, nearly all the signs of human habitation and commerce had been removed and the area began to return to its natural state.
There is virtually nothing left of the lodge or the other buildings. It's hard to believe that such a place ever existed, in fact, as you walk down the one muddy trail that meanders past some of the pools t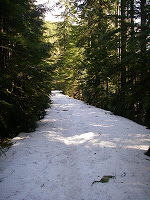 hat are still there, carved into little pockets in the hillside above Boulder Creek. It's a wild place now, especially in winter, especially on a weekday. You'll have to park at least 2 1/2 miles away, possibly as many as 6, and hike up the remains of the paved road to get to the springs, a walk that is mostly uphill but relatively easy. (If there's enough snow, it's a good road to ski down on the way out.)
If you want the wilderness hot springs experience, the Olympic Hot Springs has that. If you want a room, a bed and bacon for breakfast, you'll need to visit Sol Duc. That's probably how it should be.