Ikkatsu daily report – Phase II
There has been a bit of excitement over the past 12 hours or so over the soccer ball we found on the last day of the latest part of the trip. Initial reports are that it came from a soccer club in Otsuchi, Iwate prefecture, one of the communities hardest-hit by the earthquake and tsunami back in March, 2011. (Of the town's 17,000 residents, more than a thousand lost their lives, including most members of city government.) I'm sure we'll be on the phone today with members of the Japanese media and that there will be more to report later as regards the ball and Otsuchi. For now, however, here's the second day summary that will be going to CNN.
July 3, 2012
Initially, we were supposed to leave Portage Head today and go to Shi Shi Beach, but we've decided to stay to do a survey on the north side of the cove where we're camped. It's just as well; the wind is howling outside the reef, a steady rain is falling, and it would be difficult (and a little hazardous) to do any paddling anyway. After breakfast, we take our equipment and head over to the cove.
We're following NOAA protocol as we make our observations, doing what are called Standing Stock Surveys, where we divide 100 meters of beach into 20 equal transects, each 5 meters in width. Then, using a random number table, we select four of the transects to survey, counting the debris we find inside each of the segments. On some beaches, this is a fairly quick process; on others, like this one, it takes much more time.
Once the beach has been divided and our survey sections are marked with surveyor's line, we start the counting. As soon as we get up past the high-tide line, the task becomes almost impossible. Flotsam is laid up in layers, plastic bottles and fishing debris are thick in many places, and pulling back one layer of junk only exposes the next. It feels like we are peeling an onion, and the sheer volume of the debris (mostly plastic and styrofoam), is very difficult to count accurately. 
The only piece of debris that we can safely assume came as a result of the tsunami is another piece of lumber with the same mill stamp as we found on the house section during our last trip. This beach is only five miles or so further south and it seems reasonable that a few pieces would have broken free and landed at other points along the coast. Other than that one piece of wood, most of what we found consisted of beverage bottles and fishing equipment. I had hoped to do an I & C, where we would collect the debris in large bags and place it above the tide line for later pick-up, but once we got into the count, all thought of picking up the garbage was put aside. Perhaps if there had been a dozen of us instead of just three, and we had a few days instead of a few hours, we could have made it happen. But if we had seriously tried to clean that particular beach, we'd probably have been there for the better part of a week.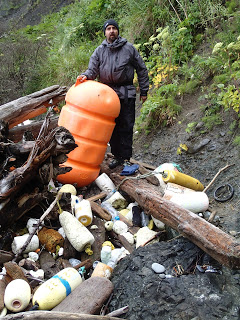 The problem of plastic debris on our shores is a pervasive one. The incoming flotsam from the tsunami just draws attention to what is already there, and there in staggering amounts. It is our worry that the background clutter of pollution that lines our coast will be seen as "normal," that the tsunami debris will simply constitute a blip in the situation, soon to be forgotten. The reality is that this plastic is never going away, ever, unless someone picks it up and takes it away. And that is something that hardly seems possible.
When we're finally done with the survey, we walk back to our end of the beach. The sun comes out in the afternoon and we spread our wet gear out on the sand to dry. The wind is still blowing but we are sheltered from its fury and the weather report promises better conditions the next day.