Ikkatsu daily report – Part deux
It's been a bit of a media flurry the past day or so, ever since the news about the soccer ball hit the ether. (Not as much commotion as when we found the house – or part of a house – back in June, but still, lots of phone calls and emails to countries and time zones far away from my own. Like Japan, for example.) Two days though, that's about as long as any of this lasts. The news is a relentless and voracious beast… it eats what it finds and moves on. That's ok with me… I'm taking the long view. With that in mind, here's the latest in the daily installments from the most recent leg of the expedition…
July 4, 2012.
Independence Day. We pack up and push off the beach at south Portage Head and paddle out onto a quiet sea. The destination for the day is Point of the Arches, at the south end of Shi Shi Beach. Off the reservation and into the National Park now, where we are certain to see more people hiking on some of the beaches, as well as pockets of solitude.
The tide is high as we get to the point and we spend an hour or so paddling through the celebrated arches at the southern end of the 3-mile arc of Shi Shi. From calm water on one side of the rocky walls through the tunnels and onto the lumpy seas and swells on the weather side. Back and forth, finding new and different ways to pass through stone. Paddling arches and caves is one of the singular joys of open coastal kayaking; it is an explorer's rush to be able to go where few have gone before, and to do it with grace and style makes it even better.
When the tide starts to drop, we hit the beach and locate a camp site. Although we saw a fair number of people up on the north end of Shi Shi as we paddled down the shore, most of them stay up that way. That's where the trailhead is and I suppose they don't see much reason to continue southward. We enjoy our relative isolation as we set up camp.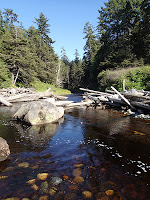 Eventually, we walk up to Petroleum Creek, about a half-mile up the beach, to refill our water jug and to get an idea of the quantity of debris here on one of the most visited beaches in Olympic National Park. It's a wide swath of sand, so the flotsam is less concentrated than what we have encountered elsewhere, but there certainly is no shortage of plastic and other garbage. Our plan is to conduct a survey in the morning on a section of beach near our camp site but we do an informal count as we walk, snapping a few photos along the way of some of the more notable items.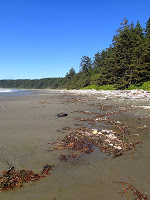 As it has been at other beaches, most of the debris is Asian in origin, although we don't come across much that we can say is definitely related to the tsunami. I spend some time sitting by the fire as night begins to fall, imagining what it would look like here if all of the garbage was gone. It's hard to imagine that this beach – or any of the others – will ever be truly clean, but I like the picture I'm seeing in my head, and I can't help but try to make it a reality.