Hurricane Ridge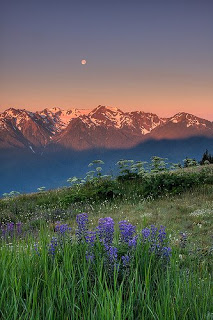 The year is 1889. Port Angeles is little more than a wide spot on the Straits, population: 40. A sawmill and a couple of other stores make up the entire business district and the whole affair is still very much in the process of being carved away from the surrounding forest. The interior of the Olympics are terra incognita, and although various mountain men and hunters have made forays into the high country, it has still not been crossed from one side to the other.
Lt. Joseph P. O'Neil is a man driven by an intense curiosity and aided by a strong sense of discipline. Still, the way is far from easy. O'Neil chooses to start his 1889 trip in Port Angeles, because it is situated so well for mountain
access. His party of soldiers and scientists, packers and adventurers, sets out southward, in mid-July, toward Hurricane Ridge but they only get there after a full month of cutting trail through tangled rainforest and windfall.
A month. An entire month to do what we can do today, traveling the 17-mile Hurricane Ridge Road from Port Angeles, can do in a half-hour. And once you're there, the entire Olympic range is laid out in front of you like another world. It is possible, even on a busy weekend day in summer, to gaze out onto that tableau and feel like yours are the first eyes to see such raw beauty. "Like stout Cortez," in that crazy old poem.
On one side, the impossible jagged peaks are jumbled together like immense shark's teeth. Snow caps the summits and extends in fingers down the flanks of the mountains, to the dark valleys waiting below. The deep greens and browns of the lowlands weave around and through the mountains,
hinting at the unseen course of rivers large and small. To look across the deep chasms and see the real wilderness that remains in the Olympic interior is both a humbling and a hopeful pursuit. Humbling, because of the scale of the territory: steep, difficult and utterly wild. Hopeful, because it is there at all, because we haven't destroyed it yet, and because there's a chance my son will be able to experience these same unspoiled vistas when he is in his dotage.
To the north lies the Strait of Juan de Fuca and Vancouver Island. The sparkling blue waters of the Strait are plowed by freighters and tankers, ocean-going behemoths that, from this perspective, look like child's toys. The western San Juans are visible as well, dots of green in a cerulean sea.
After a month of slogging through thickets of alder and mud, cutting trail through a dank, dark shadow land, this view must have been a tonic to O'Neil's tired crew. From the summit of Hurricane Hill, where the old, doomed fire lookout used to stand, you can see the world. The best parts of it, anyway.