Hobuck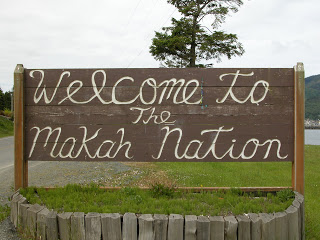 I remember once, years ago, I stayed at Hobuck Beach. There was no campground there back then, although I stayed in the ruins of what had been an RV park of some sort, before my time. I didn't know then that the Makah reservation is one of the dry type, and I built what might be called a "caucasian fire" and scattered my empties with little regard to aesthetics or the letter of the law. (I did pick them up the next morning.)
It didn't matter much one way or the other. When the light of morning caught me, I could see that I had spent the night in a dump. Not the municipal landfill, but an informal dumping ground, where locals apparently came to discard large appliances and paint cans, dismembered dolls and plastic bags filled with diapers. The Makah reservation, the rez, was not a place much given to aesthetics either, not in those days anyway.
Neah Bay is still not likely to be confused with Carmel or Vail. There is still an inordinate amount of litter along the roadways and in the bushes, but it's a damn sight better than it used to be. When I first started paddling in the surrounding waters, there weren't many others out there. Now it's a required stop on the Northwest paddling circuit for kayakers and surfers alike and it's getting more popular every year. Maybe it is the added visits that have had the effect of encouraging a higher incidence of cleanliness, I don't know. But it's definitely better now.
There's a campground there again – I've been out there scores of times in the intervening years – I'll be out there again in a couple days. I'm older now though, quieter in ways… my fires are smaller and I'm more likely to dispose of my empties in a reasonably appropriate manner.