Here's to the tilt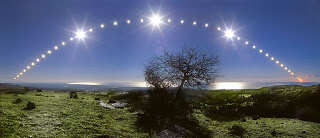 Is it warmer out there? Does it seem warmer to you? Maybe it's just that it's not as cold as it was last week, when it was in the teens and twenties. It's not as cold as all that, so in comparison, conditions today seem almost spring-like.
Or, you know, maybe it's all because we've turned the corner, in a cosmically orbital sense, and are moving back toward the light. Not sure if anybody noticed, but the sun set at 4:21 PM today, here in western Washington. That's a minute later than sunset yesterday; the days are beginning to expand, slowly getting longer.
Maybe the extra daylight just made it seem warmer.