Here comes Brrr…
September, October, November and December. The last four months of the year. Is it simply coincidence that these are the only ones that end with the sound of cold weather? As these months get underway, as the thermometer falls, I expect I'll be making that noise more often.
I've been enjoying the Narrows in the mornings, cruising up the eddy toward the point, then over to the other side and back. Playing the eddylines, timing my crossings to ride the force of the current back home and getting off the water as the sun is coming up over the hill. The elements are a continual factor here, unlike the Foss. There is no protection from the wind, should it be blowing, and the waves that are generated can be significant.
I've been thinking about keeping one board up the hill, maybe driving to the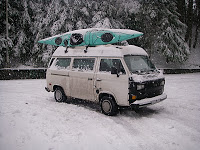 Foss on days when the weather is inclement. With the coming brrr, it may not be a bad idea. I may also use the weather to determine my ride: SUP when it's less rowdy, sea kayak when the water is rocking. Regardless, I expect I'll have my share of memorable mornings over the course of the next few months.
According to the weather watchers, the next few days should bring some sun and bit of a warming trend. Which is nice – I will take it and be grateful. And know that it will not last long.