Here be leeches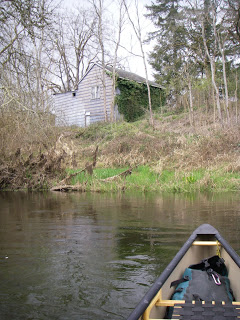 I just spent the last hour scanning the aerial photos and the topographical maps for the Black Lake and Black River area. I think getting through the swamp that connects the two will be a critical leg in the journey: good progress through here and I'll be set up for success later on; slow going with route-finding problems could put the whole expedition behind the 8-ball, right at the beginning.
And then, just because I get out of Black Bayou doesn't mean that it's easy paddling from there on. I expect there will be sweepers and logjams on the Black and the Chehalis, as well as route-finding issues further down near Aberdeen. High water is both a blessing and a curse. Camping and bivouac sites may be difficult to come by and if the weather is wet, the whole canoeing leg of the trip might prove to be overly dramatic.
The crux move, however, will likely be the swamp. By this time next week I'll know which it was… a smooth sail or a bushwacking epic.