Gravity issues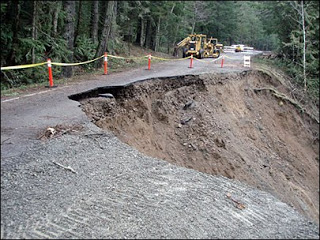 It's going to be a lot harder to get to Hurricane Ridge for a while. Four weeks, six weeks, maybe more. Just below the Heart O' the Hills park entrance station, a hundred-foot section of roadway headed south this week as a result of the heavy rains. The road is closed indefinitely to all uses, even walking or bicycling, because the slide is still considered to be active. In other words, it may get worse before it gets better.
This is a popular road throughout the year and it has held up well, all things considered. It's about 50 years old and this is the first major outage. It will be fixed.
But what if it wasn't? What would that look like? Would it be like the Dosewallips road, a ghost road, a slowly deteriorating slab that serves as a reminder that nature always bats last? Would that be a bad thing? In a tropical rainforest environment, it takes continuous maintenance to ensure that any buildings and grounds are not overrun by the fecundity of the plant life. Left alone, the jungle will reclaim all. It's not that much different in the Olympics.