Goodman Creek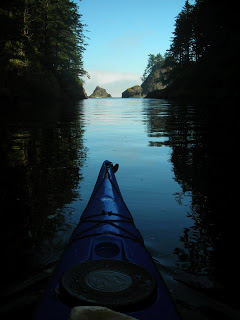 There is a small river by the name of Goodman Creek that runs into the Pacific just south of Toleak Point. This section of the Olympic coast – south of La Push, north of the Hoh – is one of the least visited places in Washington. Yes, there are backpackers who travel along the route, but only parts of it; most hikers avail themselves of the many opportunities to head inland, off the beach, at points where the trail cuts away from the sand and into the woods. There are numerous headlands and outcroppings that can only be rounded at low tide as well as others (like Toleak Point), that can't be rounded at all.
Unless you're in a kayak. And if you are, if you have the capability to travel around and through the stone sentinels of this incredibly beautiful spot, you will get to the mouth of Goodman Creek. Unlike most creeks and rivers that flow into the sea, this one does not split into myriad channels of braided rivulets on the sand. Instead, Goodman Creek finds the surf through a single, grand opening in the rock, easily navigable for kayakers, a channel from the world of salt water into the world of fresh.
The trail that bypasses the creek mouth is located 1/3 of a mile up the creek, near a small waterfall that is quite beautiful in itself. But there is no substitute for seeing and experiencing the delicious interplay between the quiet creek and the mighty ocean that is found at the entrance just downstream. And there's no way to get there on foot.