Gone to the east side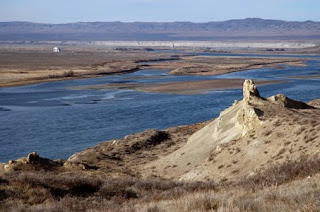 I have a few days off here, and I'm planning on spending them some place different and new. To me, at least. I have had it on my list – oh, that list. That constantly-growing, insatiable list – for years now. I can only imagine what the Columbia River looked like back in the day, wild and raw, as much a force of nature as the tides and the glaciers.
My imagination is a good one, but I doubt it can do justice to the original. The river that once was, is gone. There are more than 400 dams in the Columbia River Basin, storing and diverting, changing the way that water flows through the area, re-making the land in our image. We needed the electricity, the aluminum, the agriculture. To secure our future and in order than civilization should advance, we needed what the river could provide. So we took it.
We didn't get it all though. At least, not yet. There's one section left that still looks the way it used to look. From what I've heard, anyway. Paradoxically saved from development by the Federal nuclear-weapons-of-mass-destruction department, the land along the river here is still pristine, for the most part. "Looks pristine," is probably a better way of putting it (I have heard of 3-headed fish and such.) Still, by all reports, the river is beautiful.
I'm pumped to take a SUP ride through the Hanford Reach. It will be cold, but it looks like the skies will be blue. It gets down into the teens at night, but the days will be considerably warmer. The shuttle has been arranged, the gear is packed (mostly), and there's 33 miles of feral river out there just waiting for me. I am ready to go.