Gone, again
How do you describe the indescribable? How do you explain something that has never really been named? Mere words are ridiculously inadequate for any exchange of the ideas that count the most. It's an unwieldy concept, doomed to fail, like trying to describe the color red to a a blind man.
I have stories to tell, stories of an amazing kayak trip down the coast between La Push and Ruby Beach. My paddling companion, John Inch, and I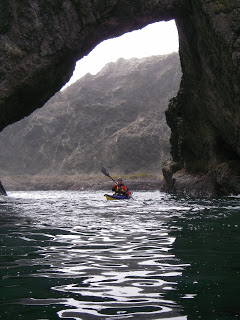 experienced some very good, nay, perfect kayaking moments throughout the 17-mile journey. Suffice it to say, I have a new favorite place to paddle. (I never thought I'd go anywhere in a kayak in the Pacific Northwest that could surpass the Cape Flattery area, but I have now, and I want to write some of it down.
I'm leaving tomorrow, however, and there's no time to write about it now. I don't have the words to describe the things I saw, anyway. I'm gone climbing now, the first of the Summit to the Sea attempts, and I won't be back for a week. I'm looking forward at the moment.
But it's good to look to the past sometimes too. When I get back from the mountains, I'll put it all in writing. That's a promise.