Going to the mountains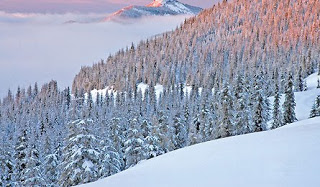 With the departure of the Pineapple Express – it's still plenty rainy but the colder temperatures have returned – I feel like getting into the snow somewhere. I've spent altogether too much time inside of four walls lately and I'm feeling the need to stretch my legs, lungs and mind.
I have my eye on the Mount Tahoma Trails system of cross-country ski trails, just outside of Mount Rainier. First thoughts are that I'll head to the Copper Creek Hut tonight, see how that goes. I haven't been there before; I've been close, but not lately.
I am hoping that the mountain air will cleanse me and that the time spent north of the snow line will provide some clarity. It's that time of year when I need most to get apart from the holiday clamor, the relentless consumerism and retail exaltation that is at the heart of Christmas. (I don't aspire to Scrooginess, but I feel myself being pushed in that direction a little more every year. Those of you who know what I'm talking about will understand; to the rest, I ask only your forgiveness. In the spirit of the season, and all.)
I may be back tomorrow sometime.