Going south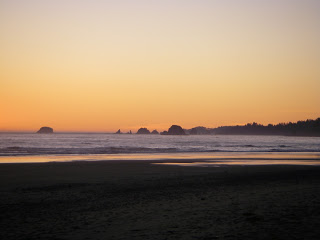 When I look at the map for the next leg of the Ikkatsu Expedition, I see a coastline that rivals any on earth for raw beauty and power. There are the standing stones and offshore stacks of the Giant's Graveyard, the defiance of Toleak Point, jutting out into the wild surf from the deep green of the coastal rainforest. The sandy expanse of the wild beaches and the hidden mystery of Goodman Creek are there as well, and every mile holds its dreaming moments.
I know that, unfortunately, each mile will have its share of pollution as well. Litter, debris (only a small percentage of it from the tsunami), random flotsam and shreds of a plastic post-industrial planet will be found on every portion of the route. I'm not sure how many surveys we'll get done, but I do know that these beaches don't get the level of clean-up attention that some of the others further north get, and those were fairly choked with stuff. I'm expecting these will be too.
Because of permit issues, we've had to move our visit to Destruction Island to September, so there will be a Phase IV to the project. That means this section will be a couple of days shorter, which is what it is.