Goin' back to Cali
I'm home again now. The road voyage with the boy went well, but it all seems a little blurry in my memory already. It was a busy time.
The slide presentation in Portland was outstanding, a great turn-out and enthusiastic people. (I'll be doing another presentation in the Rose City in March at the OOPS meeting. Check
here
for more info.) From there, it was south and into California. Another show in Redding and a third in Rocklin went well.
As I drove, I couldn't help but look out on the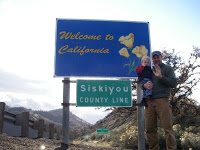 scenes flying by my window. California is where I am from, after all, a place that I still think of as my home. I've lived in Washington for so long that I sometimes wonder if I've forgotten some of what it is to be a
Californian
, but I know that it's all still there, inside.
On I-5, in the slow lane not far south of Arbuckle, I am passed by at least ten cars in a row, each of them piloted by one person, and all of the drivers with cell phones to their ears.
There are parts of California where it seems that other drivers are personally offended if you happen to be in front of them. The fact that you would have the nerve to be in front of them, it's something they can't live with.
I saw a weathered school bus in the middle of a plowed field. At one time, it had been painted in day-glo swatches of green, yellow and pink, but the accumulation of the years had rendered the colors less garish, and it looked like it had been there a long time. There has to be a story here.
Inmates on a county work crew walked along the shoulder, followed by a couple of deputies in a van. I have an image of the snow-covered cone of Mount Shasta in the distance, and in the foreground, a dozen men in orange jumpsuits with plastic bags in their hands, working off their societal debts.
In the fields near Gilroy, workers were making their way along the lines of plants. Their old cars, dusty and worn Impalas and Chevettes, lined the roads nearby. The air was heavy with the smell of Garlic.
Salinas. John Muir lived here. So did John Steinbeck.
Back in Santa Barbara, at the home of my parents, for Thanksgiving.
They dote on their grandson, and he loves it all. I am able to go surfing on the SUP just once, but it is an experience worth every bit of the drive. Point break – small waves – but still, waves that wrapped perfectly around the point, with long rides and easy grooves. There were about a dozen others out there at Ledbetter Point with me, all of them on SUPs.
A marathon drive home, but good to be here. I'm looking forward to the next month.