Gig Harbor interlude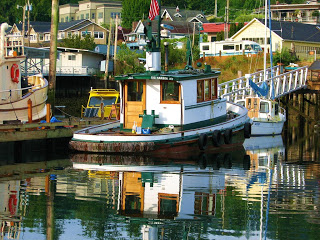 I went for a paddle yesterday, during daylight hours, from Gig Harbor out into the Narrows and on up into Colvos Passage. There was nary a breath of wind and the water was like glass, not a disturbance on the surface and no other craft out there with me. I put in at the boat launch and worked my way toward the harbor mouth, crossing from one beautiful sailboat to another, dozens of them, moored in the tranquil little bay.
Once outside, I went north along the shore until I came to one particular run-down beach cottage that I've been stopping at for years. Its deck is mostly rotten and the walls are no longer square (if they ever were), but the pilings are sturdy and the cliff behind it seems stable enough. I don't know who owns it but I wish it were me. I walked along the sand for ten or fifteen minutes, collecting beach glass, then hopped back on the board for the return.
It wouldn't be a visit to the Haabaah without a trip to the Tides Tavern. It was lunch time, so I wandered in for an order of fish and chips and a Jolly Roger. There was some crazy show on ESPN2 in one corner featuring a snowmobile jumping competition and the Australian Open on the other TV by the bar… mostly I watched the people around me as I ate. The food and drink were perfect, as always.
A very good day, for January.