Getting to small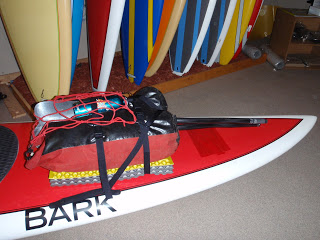 I packed a test load the other day and I'm happy with the way it looked. There are a few more changes to make to the way the load will be tied down, but making it fit doesn't seem like it will be the big problem I thought it was going to be.
When I first started putting the load together, I wasn't as confident. As I started packing, however, as I began to work that Rubik's cube – drybag stuffing for maximum efficiency – things started to fall where they were meant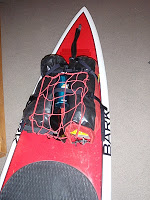 to go. With the freeze-dried food moved out to the intersticial spaces between the inner drybag and the outer one, I was left with more capacity than I had expected. The tarp, sleeping bag, ground cloth and ropes were in one compression sack; clothing was in another. The stove and fuel nested inside the titanium pot and the air mattress was rolled up tightly. (I am thinking about taking a z-rest mattress as well… if I do, it will ride below the drybags as shown in the photo above.).
It's still a work in progress and there is more to come but I think I like it so far. I need to look at the calendar and find a time when I can put the system to the test, as it were. Maybe a San Juan traverse in April or May? Maybe.