Getting the van back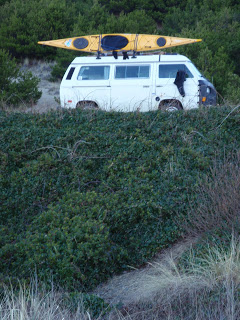 I think the only one who's more excited than me is the boy. Today is the day we get the Westy back, and I will never have to sleep in a Subaru again. I hope. Seriously. The van blew up outside of Yreka back in August, on my birthday, and it's been a long, cold winter since then.
If you've never had one, you don't know. If your only experience with a vanagon is following its bumper as it crawls down the highway, sniffing pitifully along the right-side lane like a wounded terrier, then you may be excused for your doubts. But allow me to say that driving one of these cubist dreams, camping in one of these fine pieces of German engineering, being allowed to spend an hour, a mile, a lifetime, in such a strange and wonderful beast of the road, is a sweet pleasure beyond mere words.
If you know what I mean, if you, "smell what I am stepping in," then there is no need to go on. If you don't, then no amount of poetry will convince you. Suffice to say that, as days go, this one figures to be a happy one indeed.