Get up, stand up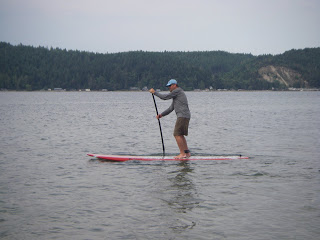 I had the chance this past week to spend a few days on the SUP (stand up paddleboard). I'm still on the steep part of the learning curve and any errors in technique get instant feedback, but I'm certainly getting more comfortable. Speed is increasing and balance gets easier as the momentum improves.
I am hoping that the SUP has capabilities for distance travel. I'd really like to see if I can use it as a vehicle for a multi-day trip at some point. Not to mention, it would be fun to get it out in some ocean waves sometime.
I'm sure there will be more to come as this whole thing develops.