Funny, it doesn't feel like January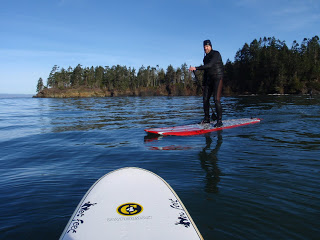 Got away for the day to Crescent Beach. Blue skies and sun, little waves but… better than no waves at all. And it was crowded, more people than I've seen there before. Board surfers, sit-on-top kayakers and surf shoes, whitewater boats and a couple little Mariner Coasters.
It has been a while since I've been in surf and it showed. I did get some good rides, but it felt as if I were working at a different speed than the water was. Timing was off and I let a few of the best waves go because I wasn't in the right place at the right time. Out of practice. Ah well, I'll have to go again.