Fresh water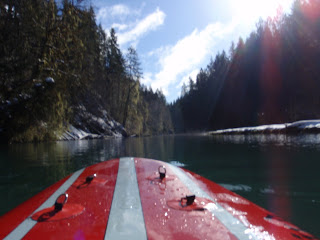 In the morning, I rose before the sun. As the sky got light, it became clear that this would be a very different day from the one that preceded it, at least weather-wise. There was not a cloud to be seen anywhere as the sun broke past the eastern horizon and although it was still bitter cold, there was the promise that it would warm up a little.
My plans had changed substantially over the past week. I had thought of going to Lake Constance to try some ultralight SUP camping, then I'd thought about starting a journey up Hood Canal; in the cold light of the morning, neither option sounded right to me. The clear skies had arrived with the wind, and the water on the Canal was already choppy and unwelcoming, even at 8:30 in the morning. That's when I thought of Lake Kokanee.
Once I got on the water, it all started feeling right. (It's always like that.) The sides of the lake are very steep, rising almost vertically for hundreds of feet, and there are houses along the crest, but not too many. A few McMansions here and there, built to impress. Doesn't everyone need 7500 square feet, sixteen rooms and a water view? It didn't take long, however, before these were mostly behind me.