Foss dawn patrol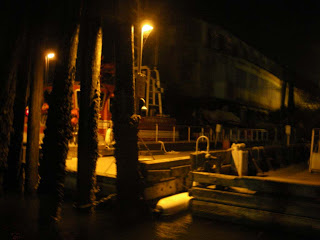 There is a north wind this morning. Skies are clear and the new sun is painting the eastern horizon, but the north wind never blows warm. No matter. When it comes to the weather, we have had a very good year.
Out early this morning, a black water paddle down the Foss Waterway here in T-town. It's become something of a morning ritual for me these days… the silent passage along the slips, past pirate ships and houseboats, here and there a shiny and glamorous trophy yacht moored to its place on the dock (where she always is – the notion of actually "going to sea" would likely never occur to her owner.)
The fire boats are moored below the Murray Morgan Bridge, on a slim wooden dock, nondescript and quiet. Light is filtered through tilted pilings, reflecting off metal and water. West of there, the shoreline gets darker, a shadow mix of salt water, mud and ancient wooden posts and bits of civilization's jetsam that have found permanent homes in the ooze. As I get closer to the mouth of the Foss, the north wind grows in strength. By staying close to shore, I am able to keep clear of the main force of the blow, but I eventually turn around and align myself in agreement with the elements. With the wind pushing me along, I make short work of the return paddle.