Foiled again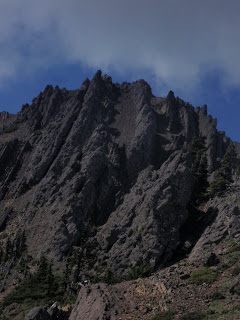 Mount Angeles is not a difficult mountain to climb. It's a scramble really, rather than a true climbing experience, steep but nontechnical. It's one of the most frequently climbed peaks in the entire range; it seems most anybody can get up it except me.
I tried it once in winter. Sleet and driving snow kept me down low that day, wind whistling all around me as I turned around and felt my way back to the car. Another time I was climbing strong up the Swichback trail from the main road when the fog came in, thick, white, viscous. A swirling opacity that forced me back once again, to plan for the next attempt.
That next attempt ran short on time. Some things take longer than you think they will, and the result is that you don't get to do everything you might have wanted to do. Like climb Mount Angeles.
I was hoping to finally get to the top last week, but a late start on the trail from Hurricane Ridge doomed that idea fairly quickly. I went right past it, I could see the route clearly in the perfect blue-sky conditions, I just didn't have enough time. There was no way I could summit, and still make it all the way across Klahane Ridge and down the Lake Angeles Trail in the time that I had available.
There is never enough time.