Flat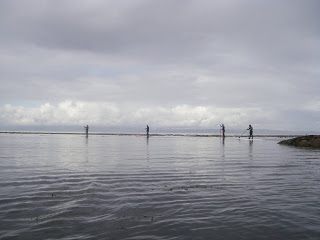 Flat. Like a manhole cover, an Ashlee Simpson tune, or the proverbial pancake. We came to the Straits in search of waves, but the waves were somewhere else. A let-down at first, after having come so far, but it allowed me to see what else was here. What was left, once the waves had been removed, was a chance to paddle through rock gardens, peer down through the intertwined layers of a kelp jungle and watch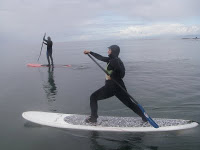 a family of otter as they dogged our progress. Watching them watching us.
It was not surfing, which was, after all, why we came. And, to be fair, we did get the opportunity to ride a few shorty sets later in the afternoon. Still, it was hardly Big Monday.
There are, however, much less enjoyable ways of spending a day.