First ski day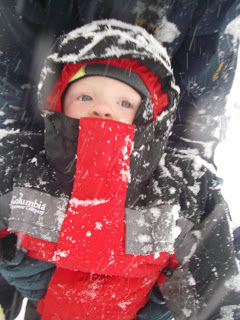 We took the boy skiing yesterday for the first time. We weren't out that long but, then again, he's not quite two years old. We went to the ski area at Snoqualmie Pass and the snow was falling hard the entire time we were there. We stayed on the bunny hill, sliding down slowly and with a minimum of grace, then getting on the magic carpet for the ride back to the top of the slope.
I like skiing. Rather, I like the concept of skiing, but I don't particularly care for the resorts. They are too loud and too crowded. I would rather be miles away in the backcountry somewhere, where the only sound in the cold air is the swishing of the skis. Where there are no loudspeakers blasting 70's rock. A place where there are more birds and deer than bad-driving Bellevue soccer dads and Seattle debs.
It just doesn't seem natural to me, this thoroughly developed and managed landscape where city folk go to slip and slide, on the hills as well as in the parking lot. I need more than this.