First day of summer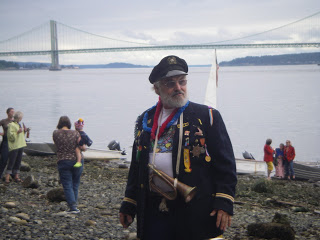 It's actually supposed to feel like summer around here today, which is nice. Because the rumor is, by the time the weekend rolls around, it's going to be winter again. Or fall, at least. That's how it goes up here in rainforest country… 
It's been a nutty couple of days since the Ikkatsu story broke about the debris we found last week, mostly having to do with the remains of the house that was washed up out near Cape Flattery, but I think the wave of media attention might be receding now. Might be a good time for a recap of that and some other items as well as an outlook on what's just over the horizon. In no particular order:
– I did a phone interview yesterday – in Spanish – with Monica Nanjari of El Mercurio, in Santiago, Chile. I feel like I nailed it, but I haven't actually seen the article. It very well could turn out that I butchered the language entirely and described myself as a "mostly hairy virgin" and that the tsunami debris we found was "very delicious with a slight hint of Ernest Borgnine." Time will tell.
– The next leg of the expedition is going to start on July 2nd, which means I'm going to miss the Independence Day Boat Race at Salmon Beach for the second year in a row. The 4th of July, along with New Year's Eve, is one of the high holy days down here at Salmon Beach and missing it twice in two years is no way to live. (The photo up top was taken back in 2008 – the unofficial motto of the event is, "If you're not cheating, you're not trying.") I'd like to take this opportunity to promise that – regardless of other circumstances – I will be here next year, in costume and ready to race. And barbeque.
– At some point in the next week or so, I'm going to need to repack the gear for the next leg. There are some changes I need to make to my list – a larger dinner plate, for example – but mostly it's just a matter of getting it all dried out and stowed again. I may take a lighter, smaller sleeping bag (banking on warmer nights), and more food because we'll be out twice as long, but no major changes planned.
– I'm really enjoying my new iPhone that I got from Mary and the boy for Father's Day. I feel like I'm finally being pulled into the 21st century.
– I'm going to another kayak club meeting tonight. It's been a while since I've seen the relevance of these loose affiliations, and I have a feeling that tonight will only reinforce that opinion, but I'm going anyway. (Obvious exceptions to this statement are out there:
KNL
and
OOPS
jump to mind, so take this observation – and others as well – with a grain of salt.) I'm taking the boy, so we can at least eat some popcorn and color on the placemats together. 
– I'm getting the motorcycle out of the shop this morning. I hope that doesn't mean it's time for the van to die again.
– There's a SUP demo this Sunday down at Dickman Mill Park on the Tacoma waterfront. It's from 10-2, it's free and it's hosted by
Azimuth Expeditions
and
Dolan's Board Sports
. If you are anywhere near the area, you should come down and say hello, paddle a few boards and see what's new. If you need more info, call 253.691.7941.
– I need to do some mountain biking… there are stories to be written and it is, after all, the first day of summer.