First crossing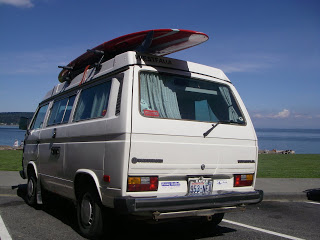 Crossing open water is always a challenge. Regardless of whether you're in a kayak or a cabin cruiser, there is something about the stretch of blue between one shore and another that gives every waterman pause. Maybe it's the fetch, the reality of being exposed to changing elements. Maybe it's the lack of ready landmarks to help gauge progress. Maybe it's all mental, which is not to say that it's crazy to think about. Even if you're the type that doesn't mind the deep-water places, a crossing can still make you think twice.
I took the paddleboard from Owen Beach to Vashon Island and back yesterday. The crossing of the west end of Commencement Bay was done fairly close to slack current and the water was relatively flat. There were some spots where the current was still moving and there were boat wakes at a few points, but it was mostly smooth and easy. I didn't have a watch, but I'm guessing that each leg took about 30 minutes.
So, as far as I know, I have made the first SUP crossing of Commencement Bay. Surely not on a par with climbing Everest, negotiating the Northwest Passage or rounding the Horn, but a first, nonetheless.
When I got back to shore at Owen Beach, a woman came up to me and told me how she and her husband had been watching me since I started on the other side, how they were trying to figure out what I was doing. "You looked like Jesus," she said. I don't know about that, but I do enjoy walking on water.