Firewood round-up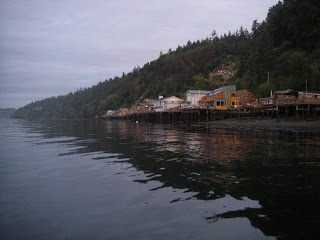 With the days getting longer, and light getting here earlier and sticking around a little later, I'm hoping to enjoy a few more morning paddles that don't require as much night vision. This morning was idyllic: flat calm water, slack current and no wind. I took the Bark 14 out for a spin, went south toward the Narrows, then turned back in toward the last house on the south end of the beach, #104. There's usually a log pile down at that end, most of which have been claimed already, and today was no different.
I was able, however, to free a chunk of cedar and a twenty-foot fir log from the pile that hadn't been tied off yet and, as the tide turned and the current began to flow northward once again, I guided them back home using my paddle as a pike pole. Got them pushed up under the house, bucked the big one down into 4 sections so I could maneuver them above the high tide mark, got inside and took a quick shower, and I'm ready for work to start in another half-hour or so.
A fine morning's paddle.