Eagles and salmon and me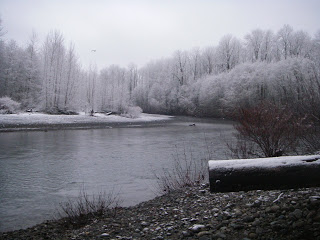 The snow is still falling, off and on. Off, right now.
The other morning I had the opportunity to take a short walk by a river. Last Sunday, before I went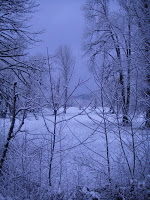 kayaking, I followed the Skokomish River Road up and away from the highway and back into the foothills. Snow blanketed the rocks and the trees along the way, lending a quiet Sunday feel to the scene.
The air along the river bank was at least 10 degrees colder than it had been on the road. Eagles along the course of the stream called to each other in the frigid sky. They perched in high branches above the water, watching the river flow. They were here for the salmon.
At several points along the way, I watched the last of this year's chum run struggle upstream.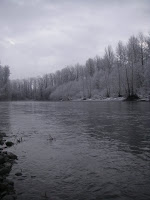 Bursts of power in the shallows, dorsal fins cutting above the water's surface, two or three big fish at a time, each encouraging the others, pushing one another against the current. The ultimate biological imperative.
Eagles and salmon on a snowy winter morning. And me. With as much as has changed over the years, it's sweet to be a part of something timeless.