Dirtbag Tour 2010
It is ironic, I think, that the title of the slide presentation I'll be doing on this trip is "Wild Island Shorelines." The shoreline I've been looking at all day is among the most intense and eternal I've ever seen, the very definition of
wild
. The gnarled stacks off the coast, ragged waves breaking on all sides, the green forest hanging over everything, with wreaths of fog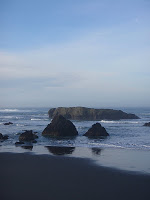 wisping around its curves and hollows.
I got on the road yesterday, jetting down I-5 to just south of Eugene, then cutting over to the coast. I had dinner last night in Bandon, grilled a steak out in the dunes as the sun set. Ate it with beans straight out of the can, sitting on a drift log, watching the breakers spill on the steep, sandy beach below me.
Slept in Bandon last night too, though I must say, I don't care much for the Hotel Loyale (which is what I've dubbed the Subaru).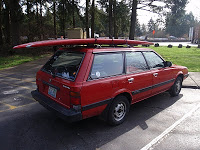 The bed area is not quite as long as I am, meaning that the sleep is not really restful. But the price is right.
Yvon Chouinard called them "dirtbags." The climbers who hung out at Yosemite back in the day, living off scraps from the lodge and a variety of odd jobs, living to climb. It was not intended to be a derogatory term in the least, and I've always associated it with a certain element of surfing society as well, gypsies and travelers, not the type of folk you might meet at church. Vagrants, rolling through on their way to the place where the waves are. Transients, living out of dented cars, eating peanut butter straight from the jar, washing it down with cheap beer, and always looking westward. Looking out toward the waves.
I'm feeling a little like a dirtbag.
I just got done with a 4-hour surf session here in Crescent City,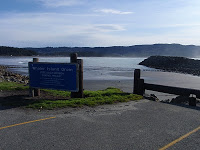 California. Just south of the harbor is the Whaler's Island Groin, and the waves there were perfect today. Perfect for me, anyway, about 3-4 feet and slow. I caught some great rights, and the faces stayed up long enough for me to carve in the green on a lot of them. Even the ones that I flailed on came out ok… it was a session that restored my faith in surfing.
Now I'm off to the redwoods.