Deception Pass, then and now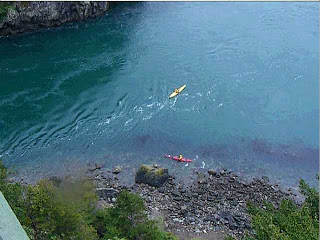 I can still remember the first time I took a kayak through Deception Pass. The roar of the current in full flood, the horizon line as I approached the narrow opening, where the water ran downhill so fast that the surface was no longer level, as if I were looking at the flow of a river. Which, of course, is exactly what it was.
It doesn't scare me anymore, but that doesn't mean I don't paddle there without a healthy respect. There's a lot of things going on at Deception Pass during times of maximum flow. It's a good place for humility and attentiveness. It is also a good place to have a lot of fun.
I'll be going up again next week for a trip with a group of ladies I take paddling every year. The weekend after Labor Day, for the past ten years, we've been getting together to kayak somewhere. Last year it was Sucia Island, the year before it was the Oregon Coast. We've stayed in tents, resorts and cabins… this year, they've rented a house just east of Deception Pass, right on the water. Ah, luxury.
I don't expect to transit the Pass at maximum exchange this time; it's not the kind of group that calls for that kind of an experience. As a matter of fact, I might shoot for Canoe Pass at slack water, at least at first. It's such an amazing place and I am looking forward to being back there again.