Daybreak at the Drunken Fir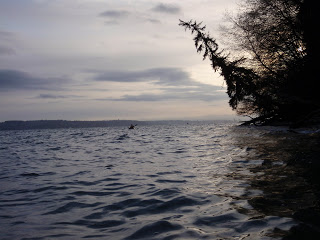 An early morning, this morning. Gary and I were on the water by 6:30, putting in at Titlow Beach and heading through the Narrows to the Point Defiance Boat House. As the light came up and the wind stiffened, we could see the slides on the cliffs below the point. All along the shoreline, from the point all the way to Salmon Beach, pieces of the hillside have let go and slid to the beach below. Big slides and small, and the majority of them looked very fresh.
There is an old fir tree that grows out at an odd angle from the base of the sand cliffs near the point. It's been there as long as I can recall. When I teach classes at Owen Beach, I don't normally go past the Drunken Fir. The current usually picks up at that point and it can be difficult to get back when there is a large group of beginners. It's a useful enough landmark that I even point it out to the students sometimes: "Don't go past the Drunken Fir." That's its name… I know. I know because I named it.
I was there this morning just as the first rays of sun began to hit. Gary was out in front of me and I drifted into the quiet water near shore and took some pictures.