Cure for the common cold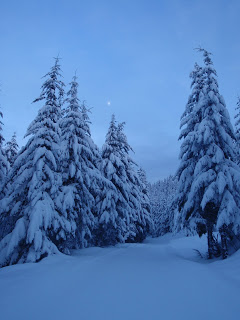 As the sun came up this morning, I could see the oranging glow on the peaks of the Olympics. So far away and yet so close. It is cold out there today and the frigid air makes everything clearer, even the crenalations and the parapets of mountains fifty miles distant.
Today, however, I am going in the other direction. Mount Rainier… Paradise this afternoon, I hope, and then a day on the Tahoma Ski Trails tomorrow. I'm fighting a cold, which makes the whole venture a little misguided – sleeping in a snowbank, alternating between sweating and freezing – not the best idea, perhaps.
Still, sometimes you just have to go.