Crescent City Monday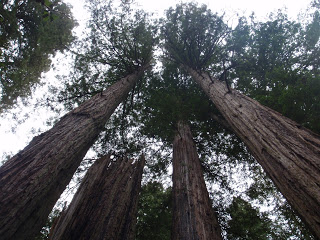 Still in Crescent City, weighing my options. From where I'm sitting, I can see the break that I've been enjoying the last couple of days, but it's not going off today. Where yesterday's session ended at dusk with five-foot peaks and long rides, the one-footers have taken over this morning. So I won't be going out right away, at least not to the same place.
The small waves here might translate into more ridable sets down at some of the places to the south that didn't look as good to me yesterday. So that's one possibility.
I went for a hike yesterday in the Lady Bird Johnson Grove, part of the redwoods that I hadn't been to before. The big trees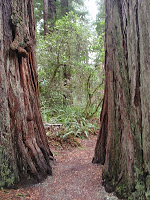 are inspiring sights, and thinking about just how long they have been there on the hills near the coast, how much has happened around them and how they have simply persevered, gives new insight into ideas like patience, steadfastness and eternity. Many of the redwoods have been severely damaged by fire, yet they continue to live, their insides hollowed out by flame but their outer layers still able to function.
So I could go back to the woods today too.
Or, if I keep going south, I could even go for a flat-water paddle on Arcata Bay, maybe take in the Eureka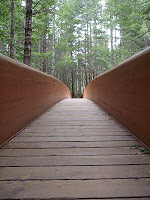 waterfront before the slide presentation this evening. I went down for the Paddlefest there in 2004, but I didn't get out on the water much… this would be a good day to change that. Maybe.
Indecision may or may not be my problem.