Country roads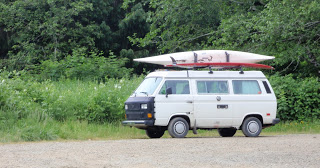 The road between Sappho and Clallam Bay, SR 113, twists and winds through the valleys and, at a few places, touches the mountains as well. The route of the two-lane blacktop has varied a bit since it was first constructed but, for the most part, it follows the original course. Cut through deep stands of ancient forest, it was a 35-mile track of muddy ruts and plank road, built from both ends, meeting near the middle, with most of the work carried out by – get this – area settlers "working out" their poll tax.
According to a government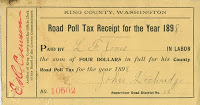 web site dedicated to Washington's rural heritage (?), the poll tax required every male over the age of 21 to pay for the construction and upkeep of the local roadways. A fellow could either use money to pay the requisite amount (4 or 5 dollars, usually), or he could use the sweat of his brow. Two days labor was what it took to balance his accounts, and the deal was that he had to provide his own axe, shovel or pick, depending on which implement of construction the supervisor called for.
If you don't think times have changed, think about that for a while.