Coasting, Part III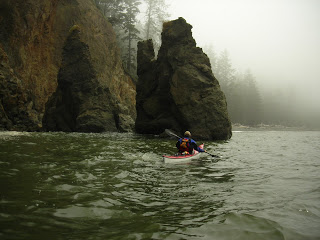 When we got back to the beach, the fog that we thought had gone slowly returned. We stayed just outside the surf zone and continued paddling south, toward the next point. According to the chart, just around the corner was Goodman Creek, and we figured we'd give it a look. We weren't ready to camp yet – we had been aiming for Mosquito Creek, about three miles further down – but there might be better options at Goodman Creek.
And then there were caves.
We rounded the point and were treated to a view that came straight from Cape Flattery. High, stone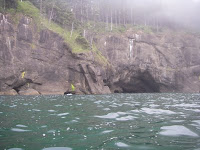 cliff faces, fringes of the forest visible at their tops, descending to the sea, where they had been split and carved by the water into intricate designs. "You don't see this from the trail," we said to one another as we paddled toward the first cave.
It was about forty feet high and twenty wide. The back roof had collapsed and formed a tiny, rocky beach and the hole in the roof let in the light. The surf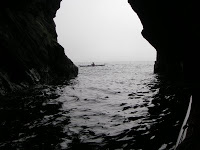 was hitting the mouth of the cave at almost right angles, and the waves were breaking directly into the enclosed space. I backed in, knowing I probably would not come ashore here, but relishing the chance to paddle in such a remote place, where few have been before. The waves beat on the beach behind me as I watched the waves roll in.
Immediately south of the cave entrance was a blowhole. All a blowhole is, really, is a sea cave. Small one, sometimes just a short tunnel in the stone. When the tide is at the right level, however, you've got a blowhole. Wave comes in, rattles to the end of the cave and is pushed back by the hydraulic forces it has generated. It shoots back through the tiny mouth of the hole, forming a geyser at it erupts sideways from the wall.
We spent over a half-hour here. Paddling up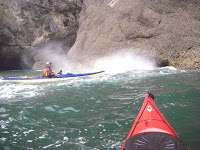 to the entrance, eyeing the waves as they rose and disappeared into the blow hole, then tasting the salty blast as it doused us in spray. More hoots and woo-hoo's per minute than anything else I've done lately. It was a wild, primeval carnival ride, exciting and rare. To be able to kayak among such wild places and such powerful forces as tide, waves and time was a glimpse at the best it can be.
Then it got better.