Click, click, click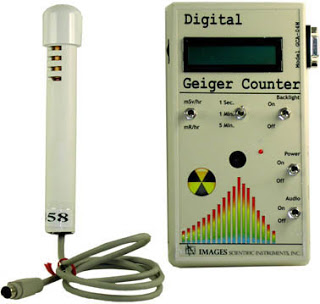 There is a chance, a very slight chance, that some of the debris making its way over from Japan will be radioactive. The tsunami occurred well before the meltdown and radioactive release at the Fukushima Daichi nuclear facility, so much of the flotsam was already out of the area before any contamination could take place. And, even if a specific item were to have been exposed to radiation, the long ocean voyage would have likely taken enough time for the radiation to drop back down again.
It's not really a concern in my mind, but that's not the point. We're going to be testing debris that we find for nuclear contamination not only to see if there is evidence for that possibility, but also in case there is no evidence at all. In other words, if the flotsam is radioactive, we'd certainly like to know. (I don't think it will be and there's no evidence so far that any of the items that have come ashore have been exposed, but there's no substitute for being sure.)
The flip side of the situation is just as important. If there is no danger, we'd like to be able to say so, without any fear of being incorrect. There will be clean-up efforts in the months and years to come and  the people who will be out there on the beaches will want to be sure that their safety is not being compromised. Furthermore, it will be easier to convince people to get involved in the clean-up process if they can be told – with absolute certainty – that the debris has been tested and poses no threat.
A big thanks goes out from the Ikkatsu crew to
Images Scientific Instruments
of Staten Island, New York for the geiger counter. We promise we'll be careful with it and get it back to you in one piece.