Cleansing the sinuses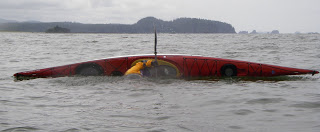 I went out to the pool last night for some roll practice. In the nick of time, I'd have to say… I am apparently well off my skills. I've done some combat rolls in the last couple of years – surf-induced, for the most part – and all has gone well. I have not, however, gone to any pool sessions, and that makes a difference when it comes to technique and reliability. Yesterday afternoon I would have told you that I have a decent roll, one I can depend on if I have to. I don't feel as confident today.
That's ok. I suppose we are all still learning. Still, it's a good reminder that skills that go unused will quickly become unusable. The main reason for practicing in the pool is that it allows for repetition. Repetition. I'm grateful for the chance to get it right (thank you UPS kayak club), and I'll be back again next Monday night for more.