Cha-latt River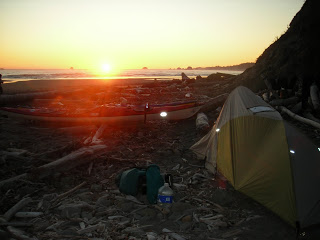 According to Smitty Parratt, author of the definitive
Gods and Goblins; A Field Guide to Place Names of Olympic National Park
, Mosquito Creek is probably so named because the area is a "first-rate breeding ground for mosquitos."
It would seem to make sense, eh?
For a time, the coastal creek was referred to as the "Cha-latt River," and was labeled as such on the 1896 Gilman National Geographic Map.
I don't know about all that but I do know that the flat sand above the high tide line makes a first-rate camp site. It has been almost two years since I set my tent up here, on a kayaking trip down from La Push. I am planning to return this coming summer and I am looking forward to getting back.