Ch, ch, ch, changes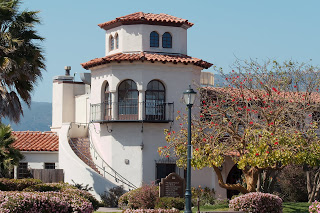 I sound old when I talk like this, older than I am even, which is saying something. Coming back to SB has its bittersweet moments, which is probably how anyone feels when they go back to their old home town. The changes that the years have brought, a cheaper veneer of newness laid atop the places that still seem alive in the memory.
But they aren't alive, no matter how much I may wish it so. Change is inexorable, relentless and without pity. The palm reader at the corner of Fairview and Hollister is still there, and so is Santa Cruz Market, but Heidi's Pies (remember Heidi's Pies?) is a teriyaki joint and DJ's and Char West are both Taco Bell franchises. Hi Time Liquors is still there (where I bought beer when I was 17), but Thrifty Drugs is a Rite Aid now and there is no more ice cream counter. Ingall's Plumbing is a thrift shop and McConnell's Ice Cream – gone these many years from the corner of Mission and State, still looks wrong without that big cow statue on the roof.
It is a mixture of the same and the different, the achingly old and the painfully new. How did Mountain Air Sports survive when Copeland's didn't? Where did Rockpile Records go, and Shakey's Pizza on Calle Real?
Yes, this is old man talk. I know it and I never intended to let it get to this point. Hell, I never thought I'd live this long anyway.
The most bitter pill, however, is the loss of the old airport. The postcard-worthy, perfectly mediterranean architectural treat of an airfield terminal has been replaced by a graceless, boxy abortion of stucco and puke, made to look like some taste-tortured tourist's version of what Santa Barbara would look like if it were a parking garage in the sketchy part of Reseda. When we landed and got off the plane, I had to squint and rub my eyes for at least a minute before I could bring myself to believe that we had really arrived.
If this is change, I want it changed back.