Car camping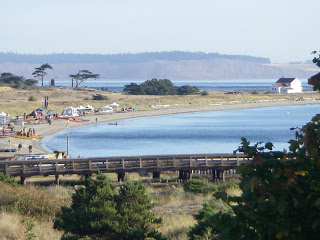 Home already. I suppose I was gone for about as long as I expected to be, but it seems impossible we were able to see as much as we did in such a short time. But we did… and the fact that Micah and
I were able to walk and paddleboard the entire length of the symposium beach displays, twice, tells you all you need to know about the size and scope of this year's West Coast Sea Kayak Symposium.
The weather was excellent, however, and we enjoyed an early morning exploration of the Kinzie battery, an early coastal defense emplacement on the point at Fort Worden. Micah liked the echoes that came when he yelled down into the cement vaults and ammunition chutes.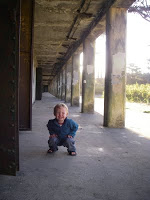 We found spider webs in the old lookout bunker and felt the cool wind blow through our hair as we walked the parapets. Everything is amazing when you're two years old.
I didn't get to the TAPS meeting… it just ended up not matching with our schedule. I wonder how it went, whether the question of continuing this event was raised during the course of the evening. Maybe there were some fresh ideas put forth that have a chance of success, maybe for some kind of replacement event or a redesigned symposium that will bring new and badly-needed energy to the sea kayaking community. It's possible.
This morning, we packed up the caravan and made the drive over to Port Gamble, to see the new Olympic Outdoor Center. What an amazingly beautiful little slice of heaven it is there in Port Gamble. Perfectly manicured lawns and perfectly preserved historic homes and buildings…
a little too perfect, some might say. But the new OOC is in a great spot – the old firehouse, complete with siren – and I can see the shop doing very well. More power to them.