Canoes, rivers and time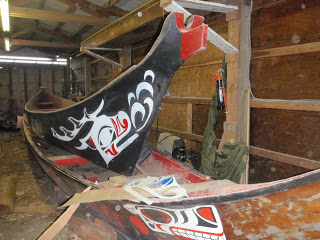 In the tiny Indian village of Taholah there is a large, wooden garage filled with native canoes. Dugouts, each carved from a single massive log, along with a few plank-sided craft, sit quietly in the shadows, in various stages of construction and repair. Up on brackets along the north wall of the building is a racing canoe – hard to say how old – covered in a matte of dust and shavings.
There are still races here from time to time; they are a staple of the Taholah Days celebration, held during the first week of July. Sleek designs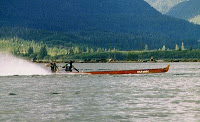 with powerful outboard motors streak up the river in explosions of noise and color. I have not been there in person when these rockets are going off, but I would like to see it sometime.
On this day in the boathouse, it is mostly quiet. Footfalls are muffled by the sawdust and wood shavings on the floor and even though there are people about, conversation is minimal. Phil Martin, one of the local elders and my guide for the afternoon, is busy talking with a young man who is working on shaping a paddle from a piece of red cedar.
Rain is beginning to fall again as I walk back outside. A canoe that is nearing completion sits on two large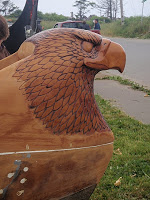 saw horses just outside the building. Its bow is an intricately carved eagle's head, and other carvings adorn the gunwales and sides. It is a piece of art, as ancient as it is new, and I walk around it slowly, tracing the designs with my fingertips, before I go back to the river.
From the bridge just east of town, I watch the current flow toward the sea. The air is warm and the light drizzle seems suspended in the air, barely enough to notice. There is a timelessness to the scene, as if it could be any year, any season. I watch as the water curls and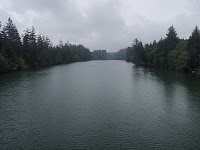 unravels around the closest bend in the river, as it has done for centuries, before joining with the ocean's brine a half-mile away.
I wish I was in a canoe right now.