By-catch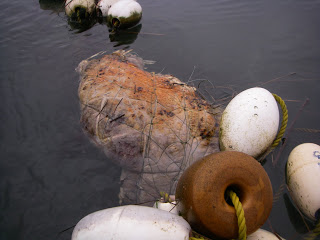 When I wrote the previous entry about kayaking in the Skokomish delta, I forgot to mention the seal.
There was a section of fishing net, along with a small bundle of floats, that was bobbing in the current near the river bank. Tangled in the net was what remained of a seal pup.
Years ago, I cut another seal pup from a net on the Nisqually. I've heard of other paddlers doing the same. Unfortunately for this little guy, there weren't any kayakers in the area when he got trapped.
I wish this didn't happen so much.