Bridge work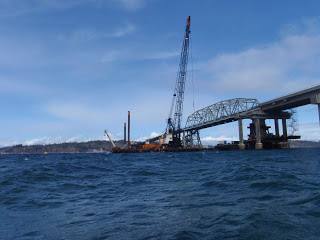 The eastern half of the Hood Canal Bridge is nearing the end of its structural service life, according to the engineering gurus at WSDOT. Just repairing the structure would not significantly extend the life of the bridge, so rebuilding has been selected as the more cost-effective solution. When it's completed, the bridge will have a new, wider east-half floating section, and new approach sections and transition trusses on the east and west ends.
It's going to be safer for cars and bicycles, and the hope is that the wider lanes and safety shoulders will help keep the 15,000-20,000 vehicles that cross the bridge daily moving smoothly. The project is expected to be completed by December of 2010.
Floating bridges, as a rule, are designed for use in calmer waters than are typically found at the entrance to salt-water fjords like Hood Canal. Currents are strong here and the wind – not to mention the 18-foot tidal exchanges – can agitate the waters to the point that the bolts and joints that hold the bridge together can become damaged. These repairs and reconstructions are intended to fix the 7,869 ft. structure and last well into the coming decades.
The real story, in the short term anyway, is that the bridge will be closed to all traffic beginning just after midnight on May 1st. What this means is that, if you're heading to the peninsula from Tacoma or Seattle, you're going to need to drive around. Through Olympia and up the west side of Hood Canal. The closure is expected to last for 6 weeks, which means it will be the middle of June before you'll be able to drive across again.
Of course, if you need to get to the other side, you can always use a kayak.