Boxing Day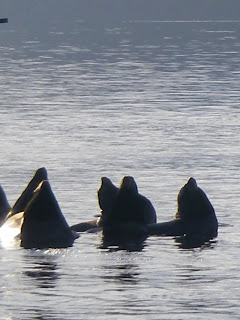 The sun was out this afternoon and I took advantage of a couple hours of down time to get a daylight paddle in. Launching from Steilacoom and heading south down the shore, I made it quickly down to the old Steilacoom Marina. All that's left is a pile of rubble now, after a fire completely leveled the place a few months ago. It's a location marked by years of tragedy; perhaps the fire will turn out to be the best thing that could have happened to it.
The sea lions that come to the south Sound in winter have always congregated there at the marina. They were still there, even though the surroundings have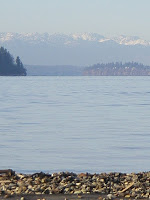 changed. The sagging float that they have used for the last 20 years or so remains in place, the last remaining vestige of what once was. The weight of the huge, blubbery bodies overpowered the flotation of the dock, and the platform itself was submerged. Choruses of snorts and grunts echoed in the cold, clear air.
Across the water, off into the western distance, the mountains were out.