Blind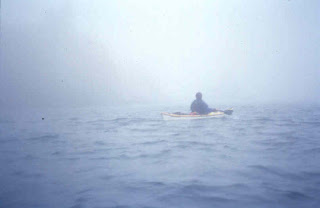 Paddling in fog.
What gut feelings does that phrase raise up for you? If you are a kayaker or a paddleboarder, perhaps a canoeist or a rower… think of it as being blind. Paddling blind.
If you have a compass, you're ok. If you know how to use it. Even then, you'll notice that queasy feeling when you hear the fog horn and the clanks and thrumming of the barges. The whine of the open powerboats and small fishing craft, out of sight, but still on your mind. Other boats out there, blind as you are.
I paddled across the Narrows this morning on the SUP. Before dawn, still very much night. I drew a bead on one of the house lights on the Gig Harbor side and aimed right at it, the building flood current pushing me south as I crossed. A low fog bank began to form when I was halfway over, hugging the contour of the cliffs and settling heavily on the water. In a matter of minutes, my visual world compressed to a small circle of perception. A "black-tick fog," they would call it in Newfoundland.
I did not have a compass, but finding the other side was not a pressing concern, as long as I was careful to listen to the current. The flood was building to max in about an hour, and the flow was obvious from my vantage point, right to left. I kept my course perpendicular to the movement of the main current, crossing the eddylines at right angles and bracing against the push of the water on my fin. It wasn't long before I saw the outline of the other side, dark and shimmering in the diffused light and the hanging mist.
Behind me, out in the fog-shrouded channel, I heard the sound of a sea lion on the hunt. Snarfing and splashing, cries of unseen gulls telling of his kill. The loud and uneven breathing almost sounded like a whale. I never saw him and soon he was out of range of hearing as well. Another traveler in the fog.
Might as well get comfortable with it.