Best. Paddlefloat. Ever.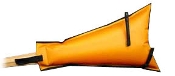 I just ordered a pile of
these
for the shop… hand-made in Anacortes, Washington. Availability is limited so they will go fast. When they're gone, I'll try to get more but the folks that put them out are notoriously overtasked and the delay has been known to be considerable. You have been warned.
Seriously, these are the best paddlefloats that your money can buy. It is a revolutionary design that works perfectly, just as advertised. And that's a rare thing these days. Get one while you can.
$40 + tax. You can order by calling Azimuth Expeditions at 253.691.7941 or by sending an email to info@azimuthexpeditions.com. (Or you can always come into the shop and do it the old-fashioned way.)